..EATSHITBUYDIE (CO)-RELEASES

001 O-Neg compilation cdr SOLD OUTwith Yattai, Nesseria, Yaccuzi, SMG, Slapendehonden FrankxSinatra Abnorm and more
003 Slapendehonden/Saul Turteltaub 7" SOLD OUT co released with Jerk off records and Geet Records
004 Godstomper/Barbarian Lord 7" SOLD OUTco released with bunch of labels
005 Roger Moore/Slapendehonden 7" split SOLD OUT

007 Slapendehonden/Tinner 7' split (hol/fin) SOLD OUT
011 Insomnia Isterica/Compost 7"(sui/ita) SOLD OUTsuisse grindcore versus italian vegangore, grindcore too the max, the way we like it, co-release with lot of labels

009 Agathocles/Insomnia Isterica (bel/swi) SOLD OUT
split between mincecore gods and suisse grinders





010 Slapendehonden/Anti Social Degenerates (nl/usa) SOLD OUTco-release between SH and US punk hxc band, with co-releasing labels
Berzerker records (US) Dead Roe (Cz) and three french labels.
two italian bands one play grind hxc and the other dbeat crust, great co-production from many many labels


014 Slapendehonden/I Witness 7" (nl/rus) SOLD OUT
split vinyl between dutch grind/hxc band slapendehonden who play one long stoner sludge song, which will make you feel drugged without smoking versus I witness epic hxc from russia with 2 or 3 songs
co-release from a whole bunch of labels






011 Cannibe/Gutalax split CD (ITA/CZ) SOLD OUT grindcore holocaust with lots of gore stuff, pitched vocals etc really great stuff for people who like it gore an loud, co -release with bunch of labels





017 Vex cd (phi) SOLD OUTworldwide co-release of great grindcore band VEX


026 No Chance for Change (fr) SOLD OUT
french fast hardcore/punk single sided 7", great 8 short songs and also very cool artwork, only 300 made

012 Obsesif Kompulsif/Shaola Finger Jab (ind/us) SOLD OUTtwo great fast fast fatstest powerviolence bands, killer co-release with bunch of labels
026 Insomnia Isterica/Gokurtrussel (swi/swi) 7" SOLD OUTgoregrindcore versus tessiner fastcore
co-release with bunch of labels




018 Low Fat/Onset Of Serious Problems (thai/ind) (14x)OOSP play powerviolence meet fatscore with hyperblasting versus Lowfat who play hc punk with Japan thrashcore taste........

025 Crippled Fox/Step on It (hun/hun) SOLD OUT
fast and furious as hell, fastcore
020 FPCKK "Fluchtpunkt Individium" (aus) (12x)Austrian screamo punk hxc, 3 great songs which will blow your ears, full of noise screams and some pure fucking hxc, with 6 different colour sleeves



008 Bandana Revenge/L.E.A.R.N/the Balls of Justice (bra/ita/rus) (12x)fastcore attack from these 3 bands, put your bandana on and mosh, some fucking fastcore with singalong, fast riffs etc etc 29 songs in total too ruin your livingroom or skate your ass of....





025 (A)truth/Kalazaar (US/GRE) SOLD OUT(A)-TRUTH come from New York,u.s.a and play straightforward punk/hc in the vein of Conflict,
Dirt and Oi Polloi,anarcho punk at it's best! KALAZAAR are from Athens,Greece and play punk/hc inspired by Chaos UK,Disorder,Varaus,Conflict,Kuro
and some old greek punk bands like Adieksodo






026 KNIFETHRUHEAD/CASKET BLASTER (us/us) (9x) This could easily be both band's most solid and brutal releases to date! The two gangs hail from California's death/grind/punk underground and have been playing gigs for a very long time, sometimes even sharing the stage. Casket Blaster desecrates your senses with two mega murderous de-compositions soaked in gore, death and above all GRIND (to keep it old-school)! Violating you to that uncomfortable, awkward feeling that they are known for imposing, Knifethruhead illegally penetrates your ear-holes with three new harassments borrowing from almost all rock 'n roll genres. Blasting-thrashing-punk drums, obnoxious saxophone solos, rockin' riffs and glamorous-gut-wrenching vocals — all the KTH trademarks are present along with their slickest recording production quality ever. The Casket Blaster side features cleverly executed Anthrax parody art while the Knifethruhead side is graced with ultra funny/gross art by Call the Paramedics' infamous vocalist, Shlak. The art alone is worth owning, let alone the insane cacophony captured on one piece of vicious vinyl. Digital download included for you pussies who don't own a turntable!

030 Black Hole of Calcutta 12" Sold Out





In the works and hopefully released as soon as possible:

006 Intestinal Infection/Slapendehonden 7' split (hopefully one day)
German grindcore versus dutch hxc grind sludge songs
co-released by Grindblock records (ita), Noise Variations (ger), Eatshitbuydie distro (ned), Lukketavdeling Records (nor), Ignorant Worm Records (ita), Troskot Records (bul) Suburbia Industries (spa) and maybe some more (thank you all too)

019 Finger Death Point/Slapendehonden 7" (somwhere in 2012)249 songs of insane grindnoise from us band FDP and 4 tracks of Bob Ross orientated grind/hxc punk from slapendehonden
ESBD records, Sludgesicle Records, No Fucking Labels, Born of Chaos and some more

021 Too Short Too Handle #2 The Sequel 7" (waiting for MSN records for pressing)second edition of international grind/hxc/thrash/powerviolence/noise compilation, 14 bands play one minute
with Fed Up!, A.S.H., Bassookah, Slapendehonden and many
more

022 Too Short Too Handle #3 The Final 12" (at pressing plant NOW)last edition (i think) of international grind/powerviolence/hxc/noise and everything more which is noisy and cool, this time 12"
with too many great bands
After the last sky, Necrowizard, Cunt Saw, Slapendehonden, Cum Sock and many many many more

023 Godstomper/tersangjung 13 7" (?)split between GS from US, great 2 man noise grind hxc and indonesian fastcore grindcore
co-release with Jerk Off records

024 Bruce Campbell/Line Up Your Lies 7" (?)ultimate grindcore split, gore fast and brutal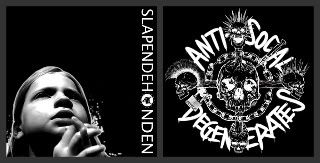 013 Too Short Too Handle compilation 7" SOLD OUTcompilation with 15 bands who play more then 1 song in 1 minute, from fastcore grind too noise. Fleischwald TxWxSx Flux Capacitor Wheelchair Wheelchair Wheelchair Wheelchair, Cum Sock and many more from all over the world
co-release from all bands and Urban Decay Records (is) Fanzine Benificiale (cs) Midnight Sea records (us) Sludgesicle Records (us)

016 Slapendehonden/Terrorazor 7" SOLD OUTsplit between german oldschool noisy grind from Terrorazor and 8 songs of grind mixed with punk and hxc from dutch slapendehonden, expect some extreme noise

015 Henry Fonda 7" single sided SOLD OUT
single sided 7" from amazing german powerviolence ensemble, especially made for their east european tour in 2010, expect some fucking fast grinding noisy powerviolence

018 Quarto Potere/Olim Palus SOLD OUT
002 Slapendehonden demo 'la evolucion siempre' cdr SOLD OUT